PEUGEOT 508 | THE HIGH-END SALOON, WITH ICE OR PLUG-IN HYBRID ENGINES
Appreciate the PEUGEOT 508's radical and bold design.
Enjoy an outstanding driving experience and advanced technological innovations.
With our Power of Choice commitment, choose your PEUGEOT 508 equipped with an efficient ICE or plug-in hybrid engine, with up to 54 km of autonomy in Electric mode.
THE RADICAL SALOON
With its low, dynamic shape, aggressive front end and steely, muscular style, the PEUGEOT 508 Fastback heralds a new era of sportiness and elegance.
Its sculpted lines, its new Dark Chrome checkered grille edged in shiny black and its light signature emphasize its sleek, bold and innovative spirit.
UNRIVALLED PEUGEOT I-COCKPIT®
Take the controls in the PEUGEOT i-Cockpit® and experience an agile and visionary drive, with a compact steering wheel, configurable head-up digital instrument panel and 10" HD capacitive touchscreen.
The instrument panel and touchscreen of the PEUGEOT 508 HYBRID offer a dedicated universe, allowing you to display information such as energy flows, driving mode , electric range, fuel-powered range and the powermeter.
PLUG-IN HYBRID
To produce the maximum combined power of 165 kW/225 hp, the plug-in hybrid technology in the PEUGEOT 508 HYBRID brings together:
A 132 kW/180 hp PureTech petrol engine
An 80 kW/110 hp electric motor
The e-EAT8 8-speed electric automatic gearbox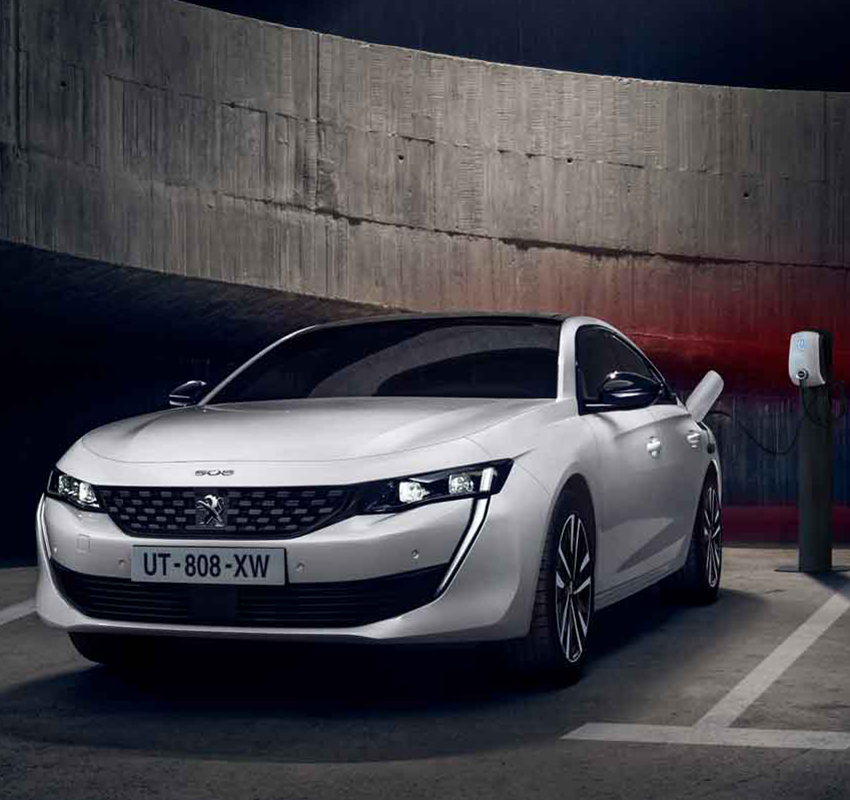 DRIVING RANGE & CHARGING TIME
The lithium-ion battery driving range of the PEUGEOT 508 HYBRID allows you to travel up to 54 km in Electric mode, according to the WLTP certification protocol.
Estimated full charging times:
1 hr 45 mins using a Wall Box (32 A) 7.4 kW
4 hrs using a reinforced socket (16 A)
7 hrs using a standard socket (8 A)
PETROL & DIESEL
The PEUGEOT 508 is equipped with the latest generation Euro 6 PureTech petrol or BlueHDi diesel engines. It provides improved fuel consumption, driving pleasure and great performance.
There are 2 options available:
1.2L PureTech 130 S&S EAT8
1.5L BlueHDi 130 S&S EAT8